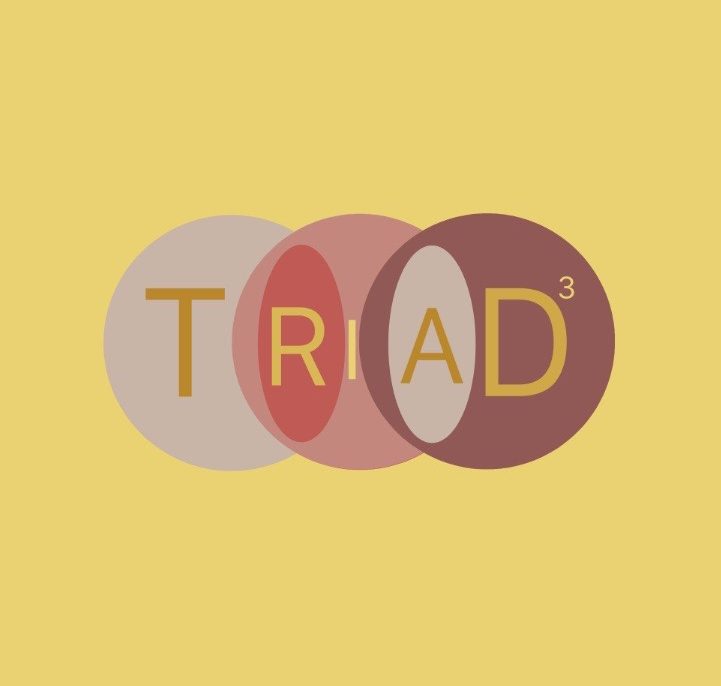 #ImageDescription – a circle based logo which reads Triad³. The background is gold. In the centre of the image there are three circles of the same size alongside each other. Each circle is a different earthy colour; the one on the left is beige, the one in the middle is pink and the one to the right is a pinkish brown. The left circle is overlapped by the middle circle in the space where they overlap is a dark pink oval. The middle circle is overlapped by the right circle in the space where they overlap is a beige oval. On top of the circles in gold lettering of a variety of shades it reads 'Triad³'.
Triad³ is a new arts-based practice, set up by Charlie Fitz-Harris, Ellie Page & Miss Jacqui.
We are an intersectional triad of disabled womxn; creators and experts in our fields. We are an active and complete circuit of flowing energy which we share, exchange and develop. 
This art practice began as part of a Develop Your Creative Practice award made to Ellie Page by Arts Council England. We had known or at least been aware of each other for a couple of years online, but hadn't worked or communicated together as a trio. 
We started with quite practical discussions about what kind of formation we wanted to take, what kind of services we would want to provide once we have established ourselves as a business, however it became clear that it would be better, though perhaps unconventional, to do things backwards. To create what we are before deciding it.